(Like Unshaved Mouse? Please consider supporting my Patreon.)
Oh hey, here's a nice uncontroversial question: Is Mulan feminist?
To which of course the answer is IT'S A TRAP YOU FOOL RUN!!!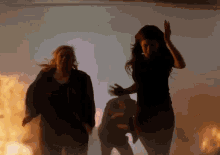 You see, the question presupposes that everyone agrees on what a feminist movie is, and that you can even have a feminist movie in the first place and you'd be surprised how little agreement there is on these points.
Now as to whether Mulan is feminist, personally, I say "Yeah, sure". It centres its story on a female protagonist whose story is treated as being of equal or greater importance to those of the male characters and it doesn't reinforce any misogynist tropes. Boom. Let's go out for ribs. But there are differing schools of thought.
For example, when Fury Road (a movie that, for my money, wears its feminist politics as openly and proudly as a movie can while still working in its own right as a narrative) came out, Anita Sarkeesian claimed that it couldn't be considered feminist because the main characters still resolved their problems with violence. In an action movie.
Which, if taken to its logical conclusion, would mean that the only way a movie could succeed at being feminist would be if it failed utterly as a movie. Which…no.
So for the sake of argument, let's accept that Mulan (as much as it can be given that it's a movie that's enjoyable and therefore a tool of the patriarchy) is feminist. But Mulan is not. By which I mean, the character herself should not be considered feminist because she lives in a pre-industrial, pre-mass literacy honour culture where anything even remotely resembling modern feminism is not only unknown but literally impossible. And here's the thing that I think people often miss about this character. She doesn't dress up as a man and join the army to give the middle finger to the expectations and traditions of her culture, but to honour them. Let me explain.
Mulan's father teaches her that the three most important things in life are:
Respecting her ancestors.
Protecting her family.
Safeguarding her family's honour.
Now, ideally these three priorities should be in alignment. But when Fa Zhou is called up to serve in the Imperial Army, those three priorities are suddenly in competition. If Mulan lets her father go to war, she will be respecting his wishes (Respecting her ancestors) and ensuring that the family' honour is intact, but she will not be protecting her family because her father will almost certainly die. But, if she somehow prevents him from going she will be protecting her family but disrespecting her father and bringing shame on the family. Mulan's dressing up as a man and joining the army in her father's place, while seemingly staggeringly transgressive, is really the only way Mulan has of resolving this paradox and ensuring that all three of her obligations are met. This is why Mulan is brilliant and why Mulan is brilliant. It gives us a story that is progressive and inspiring to a modern audience, but is still rooted very much in the culture and Imperial Han milieu of the heroine (or, y'know, the Disneyfied version of it at least). It gets to eat its cake and have it. This is why Mulan is my favourite Disney princess along (along with Moana, who has a similar story). She's not about adventure in the great wide somewhere, she's the "get shit done" Princess. She's not riding out there upsetting gender norms for poops and giggles, she's doing it because she's got a job to do and she's going to do it, dammit. And if a couple of hundred thousand Huns got to get put in the ground, well, eggs and omelettes.
Lotta people don't get that. Some of them got together and made a movie.