Wha' Happen'?:
We begin our episode in a strange and mysterious wonderland full of great music and childlike whimsy and wonder.
The Nineties.
Wirt is pacing his bedroom nervously, having just created a mix-tape for Sara in the hope that she will immediately consent to be his wife and tend his farm (as was the custom in the nineties) After chickening out and unravelling the tape, he finally mans up and repairs the tape. He then makes a Halloween costume out of a re-purposed Santa Claus hat and a repurposed Civil War era jacket.
Of course, this doesn't actually answer the question of what exactly he was dress as for Halloween. My guess is that he's going as General Gandalf Ulysses Mayberry, commander of the 11th Ohio Wizards.
Wirt heads over to the school football field and watches Sara through the fence. Sara is currently dressed as a giant bee as she is the school mascot.
Greg, who's apparently been out trick-or-treating alone (ah, the days before 9/11) and we finally learn what he was dressed as: an elephant.
Greg, little agent of chaos that he is, takes the tape and gives it to some of Sara's friends to give to her: Kathleen, who's dressed as a rabbit and Rhondie who's dressed as…I have no idea.
Wirt freaks out when he hears from Sara's friends that Jason Funderberker is planning on asking Sara out the Halloween party. He tells Greg that there's clarinet and poetry on that tape and that if Sara finds it she'll listen to it with Jason Funderberker and they'll laugh at him mercilessly.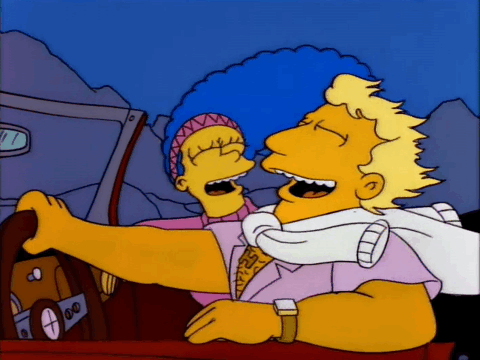 So, here's a fun little game to play when watching this episode. Listen for every time Greg gives Wirt advice, because he is always right. When he tells Wirt he should just ask Sara out first, or join the marching band because he'd be able to hang out with Sara and play clarinet…he's on the money every single time. It's just that Wirt insists on sabotaging himself and believing that he has no chance with a girl who, as we'll see, is actually really into him.
Wirt and Greg hurry to the Halloween party and Sara invites him to the graveyard to tell scary stories and drink age appropriate drinks. But suddenly they are interrupted by…Jason Funderberker.
This whole scene is where we finally realise just how much Wirt is his own worst enemy. He doesn't want to go into the party because he hasn't been invited, but as soon as he does everyone's really welcoming. The first thing Sara says when she sees him is that she asking where he was and that she's really glad to see him. And then we finally see Jason Funderberker, who Wirt's been building up as "The Whole Package" and he's not even half the package. Like the rest of the package got chewed up by a mail-sorting machine in Cleveland. And it becomes clear pretty early on that Sara is just hanging out with him out of pity. I really love Sara, incidentally, a character who very easily could have been a Manic Pixie Dream Girl but who manages to be really sweet in an understated, unselfconscious way.
Scared off by Jason's sheer, animal magnetism, Wirt turns down the offer to go to the graveyard (dude) but follows behind them to try and get the tape back. Wirt and Greg watch from behind tombstones as Jason Funderberker tells a scary story and tries to hold Sara's hand, only to be politely rebuffed. Also, shout out to the girl in the bird costume who immediately chimes in with "You can hold my hand Funderberker, I don't care".
Suddenly, a cop car pulls up and tells the kids that they're all under arrest for witchcraft (which of course was not legalised in the United States until 2003) and all the kids book it. The cops try to explain that they were just joking but the kids know that they don't have a lawyer present so they just keep running. Wirt and Greg climb a wall and the last thing Wirt sees before he jumps down the other side is Sara finding the tape and Jason saying they should go home and listen to it. Now convinced that his life is over, Wirt yells at Greg for "ruining everything" even though, as we've seen, Greg has been nothing but wise and honest is his counsel. Greg is delighted, because he has found a frog.
Suddenly, a black steam engine appears as if from nowhere and the boys jump to safety and fall into a freezing cold river.
Back in the Unknown, Wirt wakes up in a tree surrounded by bluebirds. These are Beatrice's family, and Mother Bluebird explains that Wirt and the Frog were left outside their tree. Wirt thanks the birds for caring for him, and he heads out into the snowstorm to find Greg.
"At least wait until the storm dies down a bit!" Mother Bluebird calls "You'll be no good to your brother dead!"
"I was never any good to him alive, either" Wirt replies.
How was it: Into the Unknown (Whoah-oh-oh-oh) serves as a great prequel to the series thus far, filling in details and answering questions about Wirt and Greg in ways that never feel like an infodump. It's also a welcome relief after the grimness of the last episode to spend time in Wirt and Greg's home town because everyone is just really nice.
Holy Crap, that sounds like…: I could have sworn that was the legendary Tress MacNeille as Old Lady Daniels but it seems my ears deceived me.
Can I see some references?: In this episode the series sort of loops around and, instead of taking references from elsewhere, we see the references that Wirt and Greg experienced in their own hometown which coloured their shared…dream? vision? hallucination? of the Unknown.
This frog's name is: With Greg gone, it falls to Wirt to think up a new name for the frog. He calls him "Guy". Big hand for Wirt, everybody.
My book, When the Sparrow falls, is now available for preorder! Links here.