Firstly, I have to thank regular commenter Lupin the 8th for sending me the media file that allowed me to finally (finally) cross this review off the old list.
Hercules: The Legendary Journeys starring Kevin Sorbo was a TV series that ran from 1995 to 1999 that dared to ask the question: what if Greek mythology was Baywatch?
It was an occasionally entertaining, perenially stupid mid-nineties hunk of cheese now best remembered it's much more influential spin-off show. Lucy Lawless appeared as a villain in Hercules before audiences said "More hot lady in the leather who kicks ass please" and Xena the Warrior Princess was born. Basically think "Distaff Hercules with more nineties 'tude and the blatant homoeroticism delivered with a saucy wink instead of a slack-jawed stare".
It was, simultaneously, a hugely important and influential chapter in the history of women in television and a queer cultural touchstone and dumb as all hell. This was the show that depicted Abraham and Julius Caesar as contemporaries despite the fact that Abraham was more ancient to Julius Caesar than Julius Caesar is to us.
Together, these two shows formed a kind of mini-television universe…
Okay, focus. Focus.
The final, second-least weird part of this mini multimedia franchise is today's movie is the animated feature Hercules and Xena: The Animated Movie-The Battle for Mount Olympus or HXTAMTBMO for short. This movie came out in 1998, which I find significant because the previous year saw the release of a certain other, beloved, animated depiction of Hercules. Oh yeah, you know the one I'm talking about.
Seriously though, while you might be tempted to view HXTAMTBMO as a cheap cash in on Disney's Hercules there was actually some talent behind this one. It was directed by Lynne Naylor who was one of the co-founders of Spümcø animation (the Ren and Stimpy lads) and who worked on Batman: The Animated Series. It was produced by Sam Raimi, had the main cast of the show on hand to voice their roles and scripting duties were handled by John Loy who wrote for Pinky and the Brain. Okay! Not a bad bench of talent. This could be good? Right? Right?
Sigh.
Guys, let me level with you. I've spent four years trying to track this movie down. And if there's one thing I've learned about animated movies it's this; cartoons are like a politician's tax returns. If someone's trying to hide them, it's not because they're just so damned good.
The movie opens with a musical number sung by five sirens telling the story of how Zeus cast down the Titans told through the motif of the illustrations on a Grecian urn. I dunno, does that sound familiar to you?
Fair's fair though, first impressions for me were actually quite good. The animation is limited but has this cool, stylised look that reminds me of Genndy Tartatovsky's early stuff. And the song isn't bad either. I mean, it's no Gospel Truth ("Disney's Hercules has the most under-rated songbook in the canon: Discuss") but it does a good job of setting up the story. One thing that bugs me though. We get the whole business with Zeus and the Titans and then a run-down of Hercules origin. Know who doesn't even warrant a mention? HINT: It's the person who gets rather conspicuously lesser billing in the opening title.
Kind of funny given the relative impact of both series long term. Anyway, the sirens tell us that Hercules was born after Zeus descended from the heavens to take "a mortal bride".
Okay, so this movie is more faithful to the original Greek myths than Disney's Hercules but the same come be said of fucking Downton Abbey. I mean fine, this is supposed to be family friendly and you can't really have Zeus impersonating his great-grand daughter's husband in order to commit rape by fraud but "his bride?". C'mon.
So our story begins with Hercules battling a huge sea serpent for some local villagers who reward him with a lifetime supply of fish. Herc then leaves the village with his lover, Iolaus. What? You think they're not lovers? Hey Plutarch!
There, you calling Plutarch a liar? Oh, funny story (and by funny, I mean incredibly grim). Remember Megara?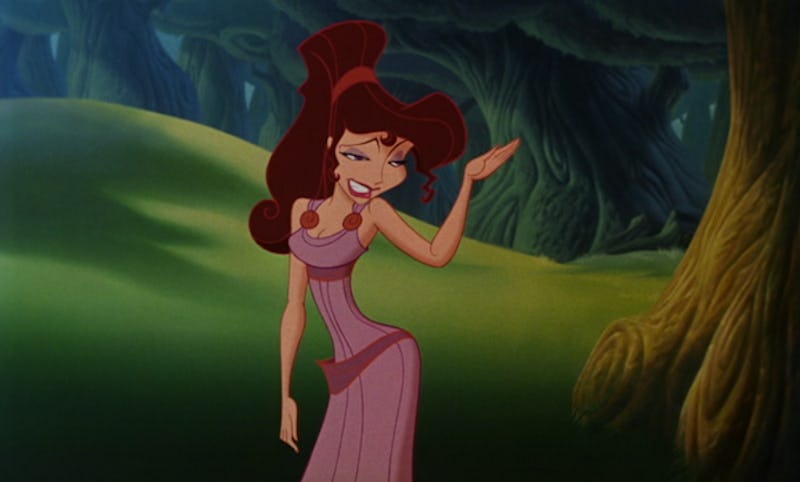 In the original myths, Hercules straight up GIVES her to Iolaus when he was still a teenager and she was in her thirties and he became her second husband. Hercules did this because, after Hera had driven him insane and caused him to kill his own children, his marriage to Megara had become super awks.
Until my goddamned dying day I will never know why Disney looked at these stories and thought they would be a good fit for their brand.
Anyway, I'm getting side-tracked by all these mythical digressions because honestly? Very little happens in this movie. Hercules fights the sea-serpent. He gets some fish. Hercules and Iolaus are ambushed by bandits. They beat the bandits. There's no plot being advanced here, it's just stuff happening. That said, Kevin Sorbo and Michael Hurst are both surprisingly good fits for animation vocally. Sorbo especially, I'm kinda surprised he didn't end up doing more voicework.
Anyway, we cut to a seedy tavern where Xena and her girlfriend Gabrielle…oh, you don't believe me? Plutarch?!
Thank you. Anyway, the non-platonic gal pals are beating up some satyrs with old-fashioned ideas of romance when Xena is approached by Ares, God of Bros. Ares tells Xena that Hercules is heading to Thebes to visit his mother but that he's walking into a trap. Ares wants Xena to stop him but Xena isn't having any of it, telling him that she knows it's just another one of his tricks. And it was this scene that made me realise…I may actually kinda like this cartoon? There's a real wit to the facial animation, particularly Ares' affronted reaction to being called a sneaky bastard.
Xena storms out and we see that the tavern she was drinking in was apparently some kind of Ewok bar.
Meanwhile, in Thebes, Herc and Iolaus are doing some farmwork for Herc's mother Alcmena when the look up to see Zeus flying down from Mount Olympus. Zeus picks up Alcmena and carries her back to Olympus without so much as a by your leave. Hercules sets off to rescue her, but Iolaus points out that Alcmena seemed perfectly happy to go with Zeus which Hercules does not take well, and here's where the Spümcø influence really becomes apparent.
Oh the way to Olympus, they meet Aphrodite, who warns Herc that he's not the only one angry about Zeus moving Alcmena into the family home. Hera is super pissed and is plotting revenge because she is sooooo evil.
Hera demands to know where Zeus has stowed his girlfriend and he shakes his fist at her and yells "You forget to whom you are speaking! I am Zeus! King of the Gods!" and good thing too because otherwise we might well forget. Zeus is a character who's been played by such cinematic greats as Laurence Olivier, Liam Neeson, Rip Torn and Sean Bean. This performance…is not of that calibre. In fact, I'd go so far as to say this is probably the least impressive Zeus in the history of Western civilization.
Hera snarls "King of the gods, but for how long?" and Zeus turns his back on her, which is really the last thing you should do to someone throwing off those kinda vibes and when he turns back Hera has made off with the Kronos stone, a massively powerful artifact that was just sitting in his throne room completely unguarded. My, that Hera. She's a crafty one.
Back on sea level, there's a massive earthquake and Hercules has to rescue a small boy who's fallen into a chasm. He holds the massive tectonic plates apart and we get to see animated Kevin Sorbo's O-face oh joy untrammelled.
While that's going on, Xena and Gabrielle try and stop some looters and then…a big Indiana Jones boulder just shows up out of frickin' nowhere. Seriously, it's just rolling towards them without so much as an introduction. Xena leaps on the boulder which starts rolling towards the looters and she yells "get out of the way!". But then it hits one of them and she yells "take that!" so I guess she's trying to brutally murder them now?
Back in the village, Herc and Iolaus rescue the child and then watch in horror as a titan named Porphyrion emerges from the Earth. We now get a weird scene where Porphyrion demands that Hercules lets him pass even though he could literally step over him without his ballsack so much as tussling Herc's perfectly coiffed mane. He tells Herc that he has no quarrel with mortals and that he only wants to kill Zeus. And then Herc makes him promise to leave the mortals alone and only attack Zeus. And then…they almost fight even though they have literally nothing to fight over.
But then Porphyrion just wanders off and summons the other titans. There's a water titan, a wind titan, a lava titan and my oh my where did they come with such an original concept? Seriously though, I'm surprised Disney's Titans didn't take them to court.
Get it? Because they used to yell "Zeu…" that joke doesn't work in text, does it? You have to imagine them doing the voice. Imagine them doing the voice and it's funny.
Zeus tells Ares, Aprhodite and Artemis that the titans are coming to Olympus looking to make trouble. Normally that wouldn't be a problem but with the Chronostone missing they're sitting ducks. Hera shows up and reminds them all that there is a prophecy that states that a hero of mortal blood could defend Olympus from the titans and muses that Hercules would be the perfect choice but, oops, Zeus just went and kidnapped his mother so he's probably not in the mood to help. She then cackles evilly because, let's be honest, that is pretty funny.
Aphrodite goes down to the base of the mountain to try and convince Hercules to put his life on the line to save his deadbeat rapist Dad and Herc is all "No. Hell no".
Meanwhile Ares and Artemis try to convince Xena to do their bidding but they're not bothering with any of the "politely asking" shit. They are Greek gods, dammit, and they know that if you want to get something done you have to be a total asshole and also some animal transformation probably wouldn't go amiss. So Artemis turns Gabrielle into a giant eagle. Not just an eagle, but the most hardcore looking eagle straight of the official crest of the US Department of Badass.
Xena is understandably upset that her bird is now an eagle, and the cartoon now takes the totally obvious path of ramping up the sexual tension between them to eleven. Oh, I am not kidding.
Gabrielle and Xena fly up to Mount Olympus and Xena attacks Ares, snarling "of all the tricks the gods have ever played on mortals, this is the lowest!"
Artemis explains that she was the one who turned Gabrielle into a majestic monarch of the sky and says that if she helps them defeat the titans she'll turn Gabrielle back and everyone will be happy like at the end of Beauty and the Beast.
Okay, so the titans attack and kick the Olympians' asses harder than Paul of Tarsus. Zeus, Ares, Aphrodite and Athena flee the burning ruins of Mount Olympus while Xena calls after them "Stay and fight, you cowards!" and damn, wanting to stay and fight on when the the LITERAL GOD OF WAR has wimped out…that's impressive.
Hercules and Iolaus arrive at Olympus and Hercules finds Alcmena and rescues her, with Porphyrion honourably allowing Hercules to pass unharmed. Xena and Iolaus are cornered by titans, but Gabrielle swoops down and flies them off to safety, leaving Hera and the titans to triumphantly rule over the ashes of Olympus.
Back in Thebes, Alcmena chews Hercules out for not lifting a finger to help save Olympus and tells him that she was there of her own free will which puts Herc in a right snit.
They're interrupted by Zeus and are shocked to discover that he's been turned into…
Well, I wouldn't be the first Greek to discover Zeus was actually his father. Anyway, turns out that Hera has used the Kronos Stone to turn the Olympians into cute little animals. Iolaus, Xena and Gabrielle arrive and are pretty pissed at Herc for bailing. Alcmena runs off and Hercules finds her crying in a barn. He asks her why she left with Zeus and she tells him that she's dying but that Zeus offered to take her to Olympus where she could live as an immortal. Herc asks why she didn't tell him and she says that she knew he'd try to stop her because he'd rather see her dead than with Zeus.
Back in Olympus we get a song called "We're the Titans" which I feel safe in calling the greatest animated villain song since "Hellfire". No, screw it. It's better than "Hellfire". Give a listen.
Oh man, you should have seen your faces. We have fun here.
Anyway, Hercules realises that if he doesn't get the titans out of mount Olympus his mother will die so he decides what the hell. He, Xena, Iolaus and the still-critterfied Olympians fly back on Gabrielle. But Hera hears Xena doing that "Ayiyiyiyyiyiyiy!" thing she does that makes her sound like a chihuahua on fast forward and uses the Kronos Stone to turn the titans into even more powerful forms. This backfires when the titans overpower her and take the Kronos stone. Our heroes arrive, gritting their teeth menacingly.
Anyway, the movie is clearly about as anxious to wrap all this up as I am so Hercules has the idea of breaking the Kronos Stone which just happens to cause a massive chasm to Tartarus to open up, where the titans shackles dance merrily, animated by the force of pure Deus ex Machina (Demi-Deus ex Machina?).
Herc and Xena knock the titans into the pit, Hera is defeated, Gabrielle and the Olympians are all changed back to normal.
And the movie ends with Alcemena bidding Hercules a fond farewell and leaving him to go live with Zeus on Mount Olympus.
***
I realise this is probably the old Chicken Little situation where I'm still so shell shocked by a truly awful piece of animation that I feel generous towards whatever comes next. Well, whether it's the linger shadow of the dread Felix or my carpet-low expectations going in but HXTAMTBMO pleasantly surprised me. It's not utterly terrible. It's not particularly good either and it suffers from a shapeless, saggy plot and an absence of any real sense of stakes. But the voicework is either competant or hilariously goofy and the animation is never boring and sometimes even quite striking. So we'll call it a pass.
Scoring
Animation 09/20
Stiff and sometimes janky, but with a bold, evocative style.
Leads 08/20:
Sorbo and Lawless both do good work, but the characters are pretty flat.
Villain 10/20:
Joy Watson gives a fun, camp portrayal of Hera as a raspy voiced harridan that's about a million times more true to the original myths than the Disney version.
Supporting Characters 08/20
Honestly, the Xenaverse's version of Aphrodite as a ditzy Valley girl always irritated me for reasons I can't really articulate. Both Gabrielle and Iolaus are kinda non-entities. Probably the best of the bunch is Ares, voiced with louche insincerity by Kevin Smith.
Music: 03/20
I was actually going. to give the music a fairly decent score and then I remembered "We're the Titans" so that was a close one.
FINAL SCORE: 37%
NEXT UPDATE: 11th August 2021
NEXT TIME: Well well well, look who finally deigned to show her face?