Do a google image search for "Movie stars of the 1940s" and you'll probably get something like this.
But if you do a similar image search for the current decade and you get this:
So my point is, racism is over.
No, obviously not. But, over the decades there has been a definite shift in American media as film and television has come to (somewhat) more closely resemble contemporary American society. Now picture something for me. Imagine Humphry Bogart and Carey Grant and Errol Flynn were all still alive, never ageing, and still acting in movies with hundreds or thousands of roles under their belts. Imagine how difficult it would be for new actors, particularly female actors or actors of colour, to break into the business and make a name for themselves. Imagine a world where the Golden Age greats almost never died, and even if they did someone always brought them back to life.
Picture that world, and then you'll understand why it's so damnably difficult to introduce more diversity into comics. Clark Kent is never going to get old, retire and pass on the mantle to a young Hispanic boy (not permanently at least). Superman is part of the Western collective consciousness now. He's not going anywhere, any more than Robin Hood or King Arthur. And to be clear, I don't want him to. A world without Superman, and I mean this with absolute dead seriousness, would be a far, far worse one. But the problem remains, there are only so many comic books one company can put out in a month and there are only so many seats at the table. And opportunities for promotion are vanishingly rare.
Consider Cyborg.
A few years back, DC rebooted their universe and established a new origin for the Justice League which now included Cyborg as a founding member, thereby implicitly placing his as one of the seven most important superheroes in the DC universe. And there was of course a lot of harrumphing that DC were pandering to political correctness by including this new Johnny-come-lately diversity hire who hadn't earned his place on the team. Think about that. A character who first appeared FORTY GODDAMNED YEARS AGO still was deemed to have not paid his dues. Which is not to say that publishers don't sometimes try to shoehorn diversity into their books in a way that both alienates their long-time readers while also coming off as insultingly pandering and utterly tone-dead attempts to woo a new audience they don't remotely understand.
Cyborg is a non-white character with an original gimmick who managed to break into the top tier but in that respect he is very much the exception and not the rule. Far more common is for a new character to take on the powers and costume of an older hero, what's sometimes called a Legacy Hero.
Introducing a new character to take on the mantle of an older, storied hero is a bit like defusing a bomb. There's only one way it can go right, and a million ways it can go wrong. Probably the best case study of how not to do this would be the passing of the Green Lantern mantle from Hal Jordan to Kyle Rayner.
Now on paper, this was a transition that had a lot going for it. Green Lantern is a fantastic concept that was often let down by a pretty dull central character. Hal Jordan was a stodgy, by-the-book military man whose most memorable storyline involved him travelling around America with Green Arrow and being wrong about literally everything. Oh, and it had the most "seventies comics" panel in the history of seventies comics.
The idea therefore was to replace Hal Jordan with Kyle Rayner, a young artist. Y'know, a guy who actually uses his imagination professionally and might be able to use a cosmic space ring to conjure something more visually interesting than a giant green fist for the billionth fucking time. Plus, you get the interesting contrast of a young man with no experience as a superhero suddenly having to deal with being one of the most powerful capes in the DC universe. Not a bad idea at all.
How did they fuck it up?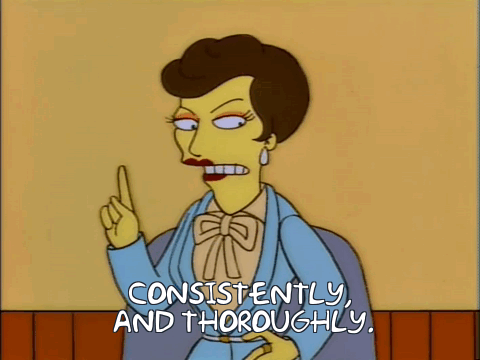 Firstly, they had Hal Jordan go insane and slaughter the entire Green Lantern Corps and become a super-villain called Parallax. Then, while Green Lantern fans were still coming to terms with a character they'd followed for thirty five years turning into Charles Fucking Manson Kyle Rayner was foisted on them without so much as a by your leave. And, to really drive the point home, every second character who met Kyle was sure to inform him that he was now the "one, true Green Lantern".
The fans naturally enough, rolled their eyes but decided that it wasn't worth getting all worked up over nah I'm just kidding it was like the fall of Saigon out there. The Green Lantern fandom splintered and became a toxic mess that really only healed when Hal was restored as Green Lantern in 2005.
So what's to be learned from that? I think it boils down to respect. Rather than simply replacing Hal Jordan, or allowing him a heroic death saving the Earth, DC elected to destroy him, to trash the character so badly that readers would (they assumed) flock to Kyle Rayner as their one true lantern. They didn't respect the character or their audience's love for him and so they were completely unprepared for the backlash against the new guy who they (rightly) saw as the reason why Hal was done dirty.
On the flipside, for an example of a Legacy Character being introduced about as well as can be, look to the introduction of Miles Morales in Ultimate Spider-Man.
The Ultimate universe was an imprint started by Marvel at the turn of the millennium to have rebooted versions of their heroes that weren't constrained by 6 decades of continuity. It was also intended to allow creators to take riskier approaches with classic characters and answer questions like "What if Captain America was a dick?", "What if the Hulk ate people?" and "What if Hawkeye was just the worst?"
By far the best thing to come out of the Ultimate Universe was Brian Michael Bendis and Mark Bagley's run on Ultimate Spider-Man, a run which I will always recommend to anyone who wants to get started in comics. It doesn't re-invent the wheel. It's just the story of fifteen year old Peter Parker becoming Spider-Man and encountering his usual rogue's gallery. But the art is gorgeous and the writing is sharp and sweet and funny and it's probably my favourite run of Spider-Man and yeah, I include the original Lee-Ditko run in that. But what made Bendis and Bagley's version of the story of Peter Parker so memorable was that they were actually able to give it an ending. The Green Goblin attacks Peter Parker's home and tries to kill Aunt May, with Peter sacrificing his life to save his aunt.
Okay. I'm okay. I'm okay. Just don't show the panel with him meeting Uncle Ben in heaven…
I won't say that there was no backlash to the introduction of Miles Morales because look what planet we're living on, but his introduction went about as smoothly as these things can, and there's a reason why Miles Morales was one of very few elements carried over to main Marvel continuity once the powers that be finally stuck a pillow over the Ultimate Universe's face. Because Peter's story was concluded on such a deeply affecting note, Miles felt less like an interloper and more like a fresh start. It also helped that Miles, like the fans, was someone who greatly admired Spider-Man and was grieving his death. That created a connection between the character and his new readers and made them more willing to accept him.
Let's be honest, the omens for Into the Spider-Verse were not good. Firstly, it's an animated film by Sony, who have probably the worst track record of any of the major American animation studios. Secondly, it's a Spider-Man film by Sony, who have definitely got the worst track record of any American studio that has ever made Spider-Man movies.
Of course, there is a simple rule in Hollywood. Think of the worst idea for a movie you can; a comedy reboot of an old police procedural? Two hour long toy commercial? Movie where weather is food? Give it to Phil Lord and Chris Miller and they will spin that shit into gold.