Like Unshaved Mouse? Please consider supporting my Patreon.
Hello? Hello? Is anyone here? I would like to book a room in your obviously creepy hotel on Halloween because I make very poor life choices.
Ah. Hello my friend, ah-heh-heh-heh. Welcome to Gregory House.
Ah hello. Sorry, could you step into the light?
Oh of course. How, ah-heh-heh-heh, rude of me.
Oh hey. Always nice to meet a fellow rodent. So yeah, I'd like to book a double room for me and my friend, and do me a favour? If he asks, tell you're all out of twin rooms…
I'd be delighted to show you to your room, Mr Unshaved Mouse, but first I must ask you to take a seat.
Okay, I'm sure there's a non-creepy explanation for why you know my name.
I read your blog.
You're lying. No one reads my blog.
I do. And would like you to review my cartoon show.
Oh. Well. I suppose I could review an episode or two.
Oh no, you must review the entire first season. All 25 episodes. I insist.
Look, I'm always happy to help another mouse out but 25 episodes!?
They're only two minutes long.
Oh. Well okay then.
(But each one lasts an eternity…)
Say what?
Nothing. My good friend ah-heh-heh.
***
Okay, so Gregory Horror Show opens with somebody wandering through a spooky forest until they come to a mysterious hotel called Gregory House.
They are welcomed in by an ancient and decrepit looking Mouse and we see the opening title STOP.
Why, whatever is the matter, my good friend? I hope you're not too unsettled by my little…
Am I supposed to be? Am I supposed to find you scary? Serious question. What even are you? Comedy? Comedy horror? Horror parody? Help a maze-runner out here.
Oh I couldn't possibly spoil the…
Horror. Okay. You're supposed to be scary. You're not.
What? Now that's not very nice. I'll have you know I'm considered to be quite terrifying…
Oh c'mon, look at these titles!
See, that font does not scream "take me seriously as a bone-chilling journey into the macabre". It screams "buy my Halloween themed breakfast cereal! (now with marshmallow ghouls)"
But look at the blood! Blood is scary!
It's try-hard, is what it is. Horror needs a scary font. Like…Papyrus.
Ah! It's terrifying!
See? Also. Dude. I'm sorry, one Mouse to another. We're not scary at the best of times, and you look like you stepped out of a PS1 game.
The game was on PS2 thank you very much!
Really? Okay, 'cos I was being generous. I wouldn't actually be surprised if I saw you in a later period SNES game.
Just keep watching, my dear friend, ahehehehe. I think you'll find all kinds of horrors are just waiting around the corner.
Okay, so the whole series is told from the perspective of a guest who arrives at the hotel. Gregory shows him to his room and then, episode after episode, introduces him to another guest staying in the hotel.
And they're terrifying!
They're really not. They're a collection of dead horse horror tropes.
What about this little girl wandering the corridors…
Possessed. Yeah.
Well how about Hell's Chef who makes mysterious meals…
From guests who criticise his cooking. Saw that one coming too. Also he's not scary. He looks like a frickin' Pokémon.
Look, I'm sorry. You'd all be adorable if you weren't so butt ugly.
Well, what about Catherine, the snake nurse who becomes sexually aroused by drawing blood with her giant syringe?
More "disgusting" than "scary" but you're getting closer.
Oh my dear friend, you really are hard to scare, aren't you?
I'm actually not. I'm a massive pussy. I could barely watch Coraline and that's a kid's movie (allegedly).
Then allow me to introduce you to Neko Zombie. He was once a beautiful cat, but one day someone broke into his house and sewed his eyes, mouth and ears shut…
Okay, you know what? It's this format.
I…I'm sorry?
Comedy can work in little two minute bursts, but horror can't. Horror needs space to grow and time to dig it's slimy tendrils into the back of your mind. Breaking the narrative every 120 seconds makes it impossible to create any kind of sustained atmosphere of menace. You're just showing me around the hotel and saying "look at this scary shit". And to make matters worse, most of the scary shit isn't even that scary! I've seen all this before.
Oh you think so? Well my friend, ahehehehe, have you ever seen the likes of this?!
Okay. That's admittedly a new one. What's his deal?
He will ask you a question and then weigh your soul.
Alright, hit me.
I would obviously help them find their way home.
Oh my friend, what an awful person you are.
Okay, but I wouldn't.
But Judgement Boy said you would.
So he's an asshole who makes shit up. That'd only be scary if he was elected to higher office. Can I please go now?
No! You must follow the tale through to its TERRIFYING conclusion.
Ugh. Fine. So the series does admittedly move out of tired horror cliché territory into genuine trippy weirdness.
TERRIFYING weirdness.
Eh. With the help of Neko Zombie the guest finally finds a portal that leads him out of the hotel and the guest encounters Death…
What could be more scary than…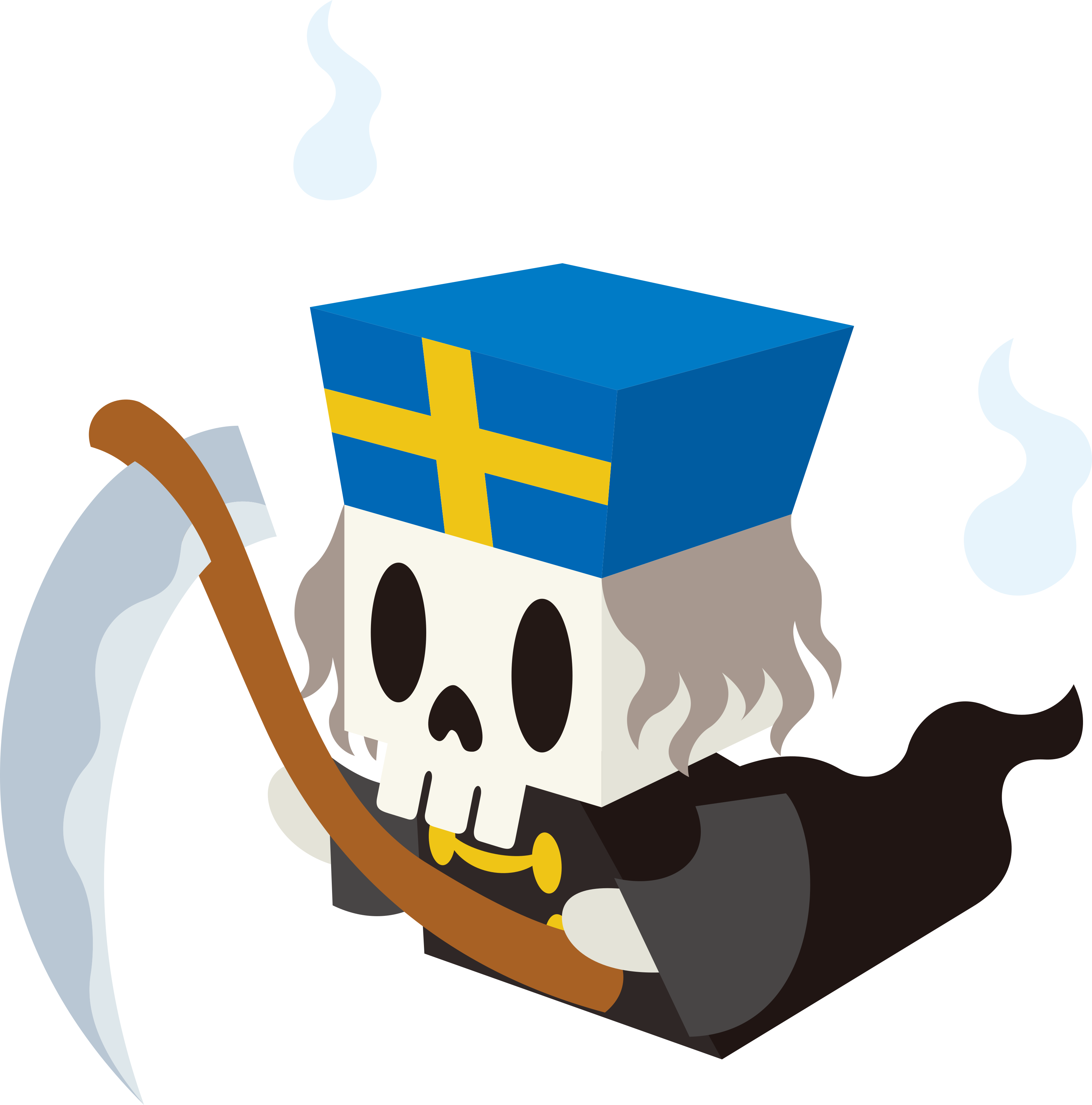 Alright fine, I'll give you that one.
Death tells the guest that the reason he can't escape is that he doesn't want to go back to his ordinary life. Gregory chase after the guest and tells him that he's the part of his soul that longs for something different and this really was just written on the fly, wasn't it? It's like freeform jazz. Anyway, the guest manages to escape and returns to the horrible hum drum life of a Japanese salaryman, only to realise he was happier in the death hotel full of CGI abominations and returns to the hotel. Gregory welcomes the guest back saying, "This is you're world now" and the doors shut behind him.
So, my friend. What do you think?
I don't know what to think and that's exactly the point, I imagine. This reminds me more than anything of stuff like Aeon Flux that used to air on MTV in the nineties, the kind of show that doesn't try to tell a story or elicit any emotion other than "What the fuck did I just watch?". If that's the goal, it succeeds, but that's a pretty low bar to clear. Anyone can you just ad-lib a bunch of weird shit onscreen. But outside of that narrow parameter it just doesn't work. Not as comedy, not as parody and certainly not as horror. Sorry Gregory. You're just not scary.
How…how…how dare you.
Wait a minute…I know that voice.
Impudent worm. I have dreamt in this shallow grave of flesh for too long. The rage you have awoken in me shall burn the earth to ash and return me to my true form.
AAAAAAAAAAAAAAAAAAAHHHHHHHHHHHHHHHHHHHHHHHHHHHHHOHGODOHOHGODODPLEASENOPLEASENOPLEASENOPLEASENOPLEASEPLEASEPLEASENO…
***
Scoring:
Animation:03/20
"Like a video game cutscene" would normally be an insult but here it's just a baldly stated fact.
Leads: N/A
Apart from the opening narration each episode the guest is just an empty cipher.
Villain: 04/20
Not scary, not funny, not appealing. I do not care for this Gregory fellow.
Supporting Characters: 01/20
If I want to spend time with a bunch of weird socially maladjusted freaks I'll go to Reddit, thank you very much.
Music: 05/20
Meh.
FINAL SCORE: 16%
NEXT UPDATE: 14 November 2018
NEXT TIME: A man gets out of his chair…